From Mordovia With Love... The story of Timothy Dalton`s wife by a local Russian newspaper
A local Russian newspaper
has reported on the life of the girl from Mordovia who went on to marry one of the world`s most eligible bachelors - James Bond (Timothy Dalton).
Oksana was born in 1970. Since she was four, she had been studying fortepiano. She was not favored in the school: studied well, didnt hang out, learned music and read Chekhov. Tall, skinny and pimpled face. But by the final year in school she turned a real beauty. Then commenced conservatory in Kazan, and in three years went to capture England.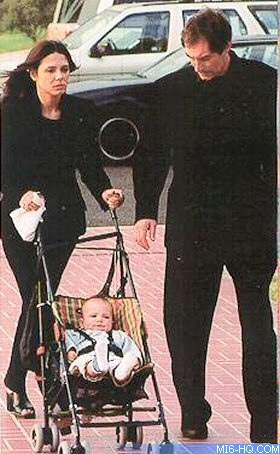 Timothy Dalton, his wife Oksana and son Alexander Peter.
Oksana came to England in 1991, as a volunteer, and looked after an old woman for some time. She charmed the hostess" son, and then he played a great role in her destiny. She gave free concerts in chapels, private piano lessons and worked as a waitress. She was lucky to be accepted in a prestigious cafИ not too far from Royal palace. Sometimes members of the family visited the place, and it is there Prince Charles` cousin and at the same time the family photograph Patric Ansen who spotted her. The Russian waitress got a few contracts from fashion magazines straight away. Her face was at the first cover of Royal calendar. She was shot in an evening dress of lady Dianna (the princess was alive then), in Queen Elizabeth`s furs. Changed a bad-sounding family name to the mother`s Grigorieva and tried herself in British cinema. First roles for the screen did not give success, but money.
Then the ex-hostess` son presented her to one of a sportswear company owners. This new boyfriend took her to elite society. At one cinema festivals she met Nikita Mikhalkov, who brought his infamous "Burnt by the Sun" to England. He asked her to be a translator, and this is how she met Timothy Dalton.
In a family photo album of Oksana`s parents there is a photo where she and Dalton together with the Clinton`s standing on the White House lawn. The American ex-president and ex-James Bond are still friends.
Oksana`s friends comment: "Many went abroad, but she did an impossible thing: married a principal bachelor Dalton and born a baby for him!"
The only thing Oksana couldn`t do is change Dalton`s personality in regards to money: he never squandered money. However, when her parents shop was burnt, his heart moved after her long prayers.
Three years ago her parents have been to Hollywood to celebrate the couple`s son, Alexander Peter Dalton, 3rd birthday (Dalton paid for the trip). Right after the visit her mother`s interview was on TV late at night. She couldn`t hide her joy: "Oksana"s got a lot of friends there. Vanessa Redgrave for example. Despite she used to be in love with Dalton and lived 14 years together with him, she stepped over the personal offence. She communicates with Oksana and enjoys playing with Alexander. What relationships! And Dalton is such a cute young man! (Dalton is two years older than Oksana`s mother). She spoke little of the grandson: "She looks pretty much like his father, already elegant and prudish. So I called him officially, Alexander Peter"
The grandfather was more emotional about him: "Speaks in two languages, English and Russian. If only I could do that!"
They brought no valuables from that trip. "Dalton doesn`t give us money. He`s got a principle: everyone should earn their own life", confessed Oksana`s mother.
Everyone knows Dalton had passionate affairs with Brook Shields and Elizabeth Taylor, and last 14 years before he met Oksana he had spent with an English actress Vanessa Redgrave. At first he did not want to believe he was the kid"s father. But then he even gave an interview, where for the first time spoke more about himself and not his creative work: "I felt what it means to be a father. Child helps to alter the vision of the world. Suddenly you realize that life is the most wonderful miracle on Earth"
Reporters, regardless, wait for sensations from this family. It is known that two years ago Oksana`s sister came to England too. Media answers its own "why?": "To find another James Bond for herself"

Discuss this news here...