Whilst the new Bond girl Olga Kurylenko (Camille) was attending the Dutch premiere, cast and crew members traveled to Lucerne to take part in the Swiss premiere for "Quantum of Solace" on Tuesday 4th November 2008. Director Marc Forster was joined by producer Barbara Broccoli and actor Anatole Taubman (Elvis). James Bond star Daniel Craig also traveled to Lucerne but was ill in bed with the flu and unable to attend the evening.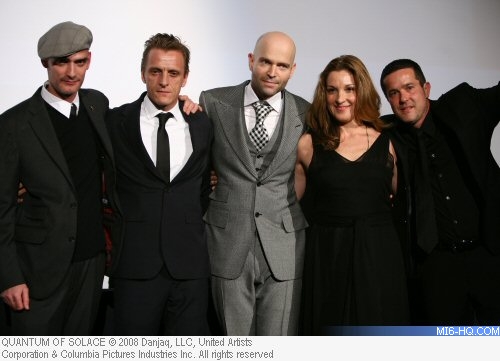 Above: Anatole Taubman, Carl von Malaise, Director Marc Forster,
Producer Barbara Broccoli and Roger Crotti
Despite missing 007, Swiss fans were able to see Forster on the red carpet at the Kino MAXX cinema in the town of Emmenbrücke near Lucerne. "The atmosphere is pretty extraordinary and very, very special. It's an incredible thing to be home and to be here," said Forster, whose arrival was greeted by cheers from the crowd. Forster added that he is always nervous debuting one of his films in his home country, and was honoured by the huge turnout.
Taubman told reporters it was "phenomenal" to be at a premiere in his home country. "My heart's beating at a double pace," he said. When asked about his line of Swiss German in the film, he said "I think I'll be the only Bond character ever who speaks in Swiss German to his mother".
The premiere has been quite a coup for the picturesque Lucerne region, according to local press. Marcel Perren, managing director of Lucerne Tourism, said that Emmenbrücke had been chosen because Lucerne did not have a big enough cinema for 1,500 people. Perren said it was a "wonderful opportunity" for the area, which has been trying to raise its film profile. "James Bond is known worldwide and having that in Lucerne is just great," he said.
Forster said at a media conference in Lucerne's palace hotel ahead of the evening premiere that there was a certain amount of "Swissness" in film. This came from the fact that he always puts personal touches in his films. He said he was drawn to characters like Bond which were "emotionally not really that accessible". This northern European tendency to be slightly more emotionally closed off was also part of his Swiss background. "My aesthetic in general definitely has an imprint of European cinema more than United States cinema," he added.
"Quantum of Solace" opens nationwide in Switzerland on Wednesday 5th November 2008 (French speaking), Thursday 6th November (German speaking), and Friday 7th November (Italian speaking).