UK TV - 007 returns to ITV with 'Quantum of Solace' on Thursday night
After Sky grabbed the exclusive rights to broadcast the James Bond films around its 50th anniversary last year with a dedicated movie channel solely for 007 films, terrestrial channel and traditional home to the series on British screens ITV have regained MI6's finest.
The first screening since 007 eloped to Sky will be "Quantum of Solace". This is the first terrestrial screening of a Bond film in the UK since Friday 28th September 2011. Sky have now lost broadcast rights to all the Bond films except "Skyfall", which they have until September 2014.
Movie:
Quantum of Solace (2008)
Channel: ITV2
Date: Thursday 7th November 2013
Time: 22:50
Date: Friday 8th November 2013
Time: 21:00
Agent 007 and M's interrogation of Mr White proves no one can be trusted on James Bond's newest action adventure, "Quantum of Solace". Fueled by the betrayal of Vesper, the woman he loved, Bond's determination to track down the mastermind behind White's sinister organisation leads to Haiti, where he finds an unlikely ally in Camille, a beautiful but feisty stranger. The trail quickly leads to Dominic Greene but with the British Government and the CIA working against him, Bond must kill or be killed on his mission to uncover the truth and destroy 'Quantum'.
Starring: Daniel Craig, Olga Kurylenko, Mathieu Amalric, Giancarlo Giannini, Gemma Arterton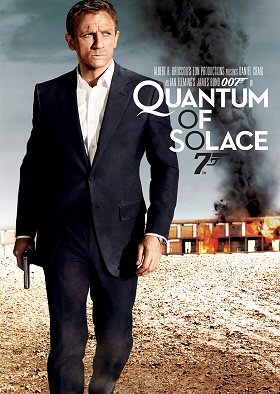 "Quantum of Solace" - MI6 Dossier
Thanks to `beaugreen007` and `Samuel001 ` for the alert.
Discuss this news here...