Buyer beware - Aston Martin DB5 auction is not a movie car
A restored Aston Martin DB5 up for auction on March 12th
is not
a car used by any James Bond production, despite a misleading press release that emphasises the DB5's history with 007 (not helped by Bond fansites irresponsibly spreading the text verbatum). The announcement of the auction by Eddisons uses the Bond name no fewer that seven times despite the car having no actual relation to the 007 franchise at any time other than its model.
The car up for auction was first registered in February 1964 and has been fully restored to concourse condition by Post Vintage Engineers Ltd during 2006 and 2007 at a cost of £105,000, and has done less than 700 miles since the completion of the restoration project. Beautifully presented in the synonymous "James Bond" metallic silver grey, the two door, four seat car was one of only 1021 ever produced and includes reclining seats, wilton carpets, leather upholstery, electric windows and a fire extinguisher and has until recently been privately owned.
The car is being sold on behalf of the administrators of Premier Motor Auctions (read: liquidation sale) through an on-line auction which takes place on the Eddisons web site, www.eddisons.com, commencing at 9.00am on March 12 and will run for 8 days.
Any interested parties must
pre register
on the web site prior to the commencement of the auction.
The Real Bond Cars
The story of the Aston Martin DB5 cars used in Goldfinger and Thunderball and subsequent PR events is such a complex tale it was the subject of the book "The Most Famous Car In The World".
There were four cars involved in the original Bond saga (in ascending order of value):
- "DB5/2008/R" and "DB5/2017/R" were a pair of Thunderball promotional cars dispatched to the USA for promotional use. The former was sold in 2006 by RM Auctions at Arizona Biltmore for $2.09m, whilst the latter is part of the Louwman Collection in the Dutch National Automobile Museum.
- "DB5/1486/R" was the Goldfinger screen car used for high-speed driving scenes, now privately owned by Jerry Lee in the USA.
- "DP/2161/1" was the original Goldfinger screen car fitted with gadgets.
It is this latter car (DP/2161/1) which is considered the most valuable of the four.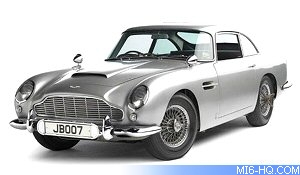 Discuss this news here...