Aston Martin left in barn for 20 years set to sell for £200,000
A classic Aston Martin, which would have been fit for 007 in the 1960s, has spent the last 20 years festering in a barn looking like a wreck – but is still expected to sell for a whopping £200,000.
The DB5 style motor was helped made famous by the James Bond films, but this particular classic was found abandoned and dishevelled, reports the
Daily Mail
.
It's not surprising that it hasn't been driven for two decades by the looks of it, as the once sparkly new bodywork has rusted away and black leather seats ripped apart.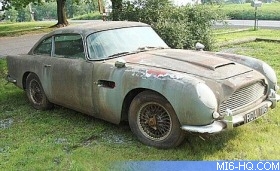 This Aston Martin might not be shiny and new any more but it's still expected to sell for £200,000
But despite its 'rustic' look, there are many vintage car enthusiasts that would be gagging to get their hands on the Aston Martin and willing to pay large sums for it.
Auctioneers who are selling the car have warned that it will cost the buyer at least another £200,000 to restore the neglected vehicle.
That only adds to its appeal according to the European director of motor cars for auctioneers Bonhams though. The interior of the vintage Aston Martin is just as rusty as the exterior.
Philip Kantor said: 'People interested in buying it are generally very wealthy collectors who want it to be in a barn find collection.
'This is because they see it as a restoration project and can restore it to their own choice.'
DB5s were one of the most expensive cars available in the 1960s, when they first came out, costing about £3,000 to £4,000 at the time.
Only 983 Aston Martin DB5s were made at the Aston Martin factory in Newport Pagnell, Bucks, between 1963 and 1965.
Despite the Aston Martin's rough exterior and rough interior, around £200,000 is expected to restore the car to its former condition.
The two door coupes had a four litre engine, 282 brake horsepower and a top speed of 145mph.
This particular Fiesta Red, left hand drive car from 1964 only had three owners and has 61,163 miles on the clock.
The anonymous vendor didn't have enough money to restore it so is auctioning it off with Bonhams at the Prince of Monaco's motor museum in Monte Carlo on April 30th.
Discuss this news here...