Ian Fleming's Chitty Chitty Bang Bang flies again with new literary adventures
Press Release
A brand new adventure for Ian Fleming's Chitty Chitty Bang Bang to be written by Frank Cottrell Boyce
Fiction's best-loved car, Chitty Chitty Bang Bang, roars back to life this autumn. Almost fifty years after Ian Fleming, author of James Bond, first created her, the bestselling British children's author and scriptwriter Frank Cottrell Boyce has been invited by the Fleming family to write a new series of adventures.
The first of three new titles – Chitty Chitty Bang Bang Flies Again – will be published on Friday 4 November 2011 by Macmillan Children's Books.
Frank Cottrell Boyce, award-winning author of Millions, Framed and Cosmic, has set his story in the present day, giving Chitty Chitty Bang Bang a twenty-first-century lease of life. At the heart of the book is the Tooting family, who discover a massive, ancient racing-car engine and use it to soup up their VW Camper van. Before they know it they are zooming around the world as Chitty comes to life again and is restored to her former glory. The new books will be illustrated with black-and-white line drawings by the illustrator and animator Joe Berger.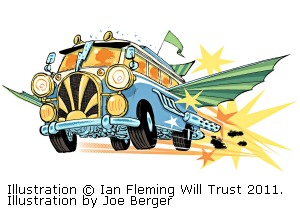 Ian Fleming's passion for cars is well known from his Bond novels and he gave it free rein when creating Chitty Chitty Bang Bang: The Magical Car, a tale that he originally made up as a bedtime story for his young son, Caspar. When Fleming later had a heart attack and was forbidden from using his typewriter by his wife, who had ordered him to rest, he wrote out the Chitty Chitty Bang Bang stories in longhand, instead of working on his new Bond novel. Fleming died less than two months before the book was published in 1964. It was illustrated by John Burningham and dedicated to the real Chitty Chitty Bang Bang, built by the eccentric racing-car driver Count Zborowski.
Lucy Fleming, Ian Fleming's niece, comments on behalf of the family: 'Chitty Chitty Bang Bang is thrilled to have Frank Cottrell Boyce, with his humour, his genius and his spanner, sparking her plugs, polishing her chrome and buffing up her bumpers. Her graceful wings are poised to take off on a new flight, with Frank's skilful but possibly oily hands on the steering wheel.'
Frank Cottrell Boyce comments: 'I have no idea what made the Flemings think of asking me to write the sequel. I haven't asked them in case it's all a case of mistaken identity. I went back to the book for the first time since I was a boy and was delighted to discover that, first of all, it's really good and, secondly, it's crying out for a sequel. I've had a lot of fun writing these books, but somewhere amongst all the fun I found it strangely emotional to revisit myself as a boy and ask if he could help me restore an old-fashioned contraption and make it fly again.'
Rebecca McNally, Publishing Director of Fiction and Poetry, Macmillan Children's Books, comments: 'With our very own Formula One Frank Cottrell Boyce at the wheel of Ian Fleming's custom-built supercar we're confident that the new Chitty will be a Christmas bestseller and future classic. Frank's irresistible warmth, wit and ingenious plot engineering, together with the amazing Fleming pedigree, have created a wonderful adventure that will excite and inspire readers of all ages.'
To learn more about the new stories, visit chittyfliesagain.com
Discuss this news here...